0814Singapore Real Estate, 4-bedroom with balconies, Rental Houses, Apartments, Kim Yam shophomes Singapore Classifieds, Internet Property Advertisements published by: Asiahomes
Internet
Owners & Realtors, one direct internet ad

contact expats direct, may save you over $5,000 in agency or co-broking fees. Email your ad to: judy@asiahomes.com, visit Asiahomes Internet

Last updated: 02 Apr 2002

KIM YAM CONSERVATION SHOPHOMES & BIG CONDOS OVER 2500 SQ. FT
Research supported by Asiahomes Internet for an expatriate.

Details at:

Subdivision Rentals


FOR RENT TO EXPATS

House-
Hunting Rentals

Serviced apartments
EXPAT NO. 1

March 8, 2002

10.45am Hotel Gallery

11.05am
9 Kim Yam Road
3+1 4600 sq. ft $10,000
2-storey shophouse. Lots of space. Suitable for an art gallery or big office

11.15am
62 Kim Yam Road
3+1 1600 sq.ft land 2500 sq. ft built in $8,000. Part of Gambier Court condo. Has a communal pool.

11.30am
67A & 67B Kim Yam Road
3+1 3000 sq. ft $10,000. Large 3-storey shophome used for offices.

57 Kim Yam Road
3-bedroom 2100 sq. ft $6,000. Central pond with water features. Living area is small. Bigger kitchen. All 3 bedrooms upstairs.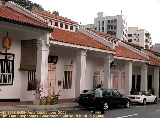 41 Kim Yam Road
1-storey shophomes
3-bedroom 1600 sq. ft $6,000. Small kitchen tucked away in a recess

off the living area. Electric hob, washer cum dryer and sink in this recessed area. Air well. A small guest bedroom. Powder room downstairs. Balcony between 2 bedrooms upstairs. No attached bath. Suits an expatriate couple who romances history.

Expat decides to stay in the hotel while setting up his start up business.



EXPAT NO. 2
March 1, 2002

9.50pm Great Eastern Mansions

10am
Nassim Jade 3+2 3000 sq. ft $13,000. Complaint of dark kitchen. Ground floor.

10.30am
Heritage Apartments 4+2 3194 sq. ft $10,000
Large bedrooms and living areas. Near American Club. Opposite Ardmore Park.

11am
Gentle Drive bungalow 5+1 2948sq. ft built in/4413 sq. ft land $8,000. Garden too small.

11.30am
Wing On Life Garden 4+1 3000 sq. ft $7,200
Owner willing to renovate bathrooms and kitchen. 23rd floor.

12noon
Waterfall Gardens 4+1 3700 sq. ft $8,000. Master bathroom has a step-up bath tub. Unit faces expressway.