HOUSE HUNTING
Report commissioned by Asiahomes Internet as a free information service to relocating expats. asiahomes.com is the webpage of Asia USA Realty (Singapore) asiahomes.com Pte Ltd.

Last updated: 26 Apr 2004

Viewing May 31, 2001
Expatriate family, 3 children. Wants 4-bedroom, spacious condos, $2,500 - $3,000 unfurnished. Will have many visitors to Singapore and therefore need good-sized condos at affordable rentals of less than $5,000, preferably $3,000. I would expect at least 3000 sq. ft built in area to satisfy this client.

2p.m
Meet at Grand Plaza Hotel

2.15pm
The Clayton 3+1 1800 sq. ft $4,000. Modern. Pool. Near downtown Orchard. 10 units only.

3pm
The Waterside 3+1 2100 sq. ft $4,700. The big living and dining area were the type of size the expatriate couple wanted. However there were only 3 bedrooms. Pool views. Away from expressway. Block 9, 5th floor.

4+1 2400 sq. ft $6,000. Big bedrooms. 5-min drive to Suntec City. Block 9, 13th floor. Sea views. Rented. Near beach and park.

3.30pm
Eunos Park Condominium 5 Kampong Eunos. 4+1 2000 sq. ft $3,500. Completed: June 1996. One shallow pool, BBQ, playground, golf green. Near Eunos subway. 6 stops to City Hall. 55 units. Somehow, the condo did not have that appeal to the grown up children who wanted a deeper pool.

4.00pm
Villa Marina maisonette 4+1 2024 sq. ft $4,800. Facing pool. A resort ambience. Impressed by the full condo facilities. Unit available only in July 2001. 4th bedroom small.

4.45pm
Kew Green cluster townhouses. 4+1 3000 sq. ft $3,500. No cable vision facility and no tennis court.

On entering the living area of this townhouse, a big screen of tall green Casuarina trees impact your vision, as if you are close to the countryside forest. Facing a road, but not much traffic noise. Lots of tall green trees seen from the bedrooms and the roof top jacuzzi. Airplanes flying up to the sky but no noise from the plane as Kew Green is not in the flight path.
3 bedrooms, excluding the master bedroom, can accommodate 6 single beds and that will be good for visitors to stay. The parents and children just fell in love with this townhouse although there will be no tennis court or cable vision connections as at June 2001.

5pm
Kew Green townhouse (tenanted). 4+1 2500 sq. ft. Land is 1700 sq.ft $4,800 fully furnished. Roof terrace flooded as drainage was blocked. Views of houses from the living area.

5.15pm
Kew Green townhouse 3000 sq. ft $5,000. A bigger garden but views of houses from the living area.

5.30pm
Kew Residencia cluster townhouses. 4-bedroom 2500 sq. ft $3,500. Basement room is fully air conditioned. No maid's room. A small roof terrace off one bedroom. No cable vision facility. Basement car park. Kew Crescent. 99-year leasehold. Completed 1997. 37 units.
3-bedroom: 169 - 285 sq. m
4-bedroom: 193 - 366 sq. m
Marble tiles in a split unit living and dining area.
Parquet in small bedrooms for this unit seen.
Very small kitchen and smaller utitlity area for washer and dryer. Pool, children's pool, games room, playground, sauna, gym, barbecue area, jogging track, covered car park.
The expatriates commented that Kew Green townhouses appear to have more attractions.

Tanamera penthouse. Maisonette with 3 bedrooms upstairs. Big living area. 3+1 2300 sq. ft $3,800
Near Tanamera subway. Agent can't make it at 4.30pm

Laguna 88 4+1 2100 sq. ft $4,500. New. To see on weekends only.

Amber Park penthouse 5+1 3500 sq. ft $5,800. Renovated maisonette with very big separate living and dining areas in dark red brown marble on level 1. Bedrooms on level 2. 3 with attached baths. 2 semi-circular balconies off the bedroom and living room. Sea views. 5 bedrooms will be ideal for expats with many visitors but somehow the apartment did not have that appeal.


Amber Park on 25th floor. Parkway Parade shopping mall (top left, brown building and sea views) with lots of breezes.

Greenish pool. Open car parking lots, security, squash, tennis court. No gym.
5-min taxi to Suntec City. After seeing the Villa Marina condos, it was difficult to warm up to the older condo facilities of Amber Park which is over 15 years old.
Chancery Grove cluster townhouses 3+study 2100 sq. ft . $6,000. Near downtown. 33 units. Communal pool. As the expatriate couple will have lots of visitors, there is a need for a big 4-bedroom condo at less than $5,000, preferably $2,500 - $3,000.

It was extremely difficult to find a big 4-bedroom condo for around $3,000. The Kew Green townhouses rent around $3,500 - $4,000. Since the 3 children are grown up, the many levels may not be so daunting. The living and dining area is very small, a main complaint of many Caucasian expats. The roof terrace plus the affordability is a big attraction.

Above condos are for rent.

For more information on rentals or FREE house-hunting for expats relocating to Singapore, email Judy Quek, tel: +65 9668 6468.
© 1996-2004 · Asiahomes Internet ·
Blk 1002, Toa Payoh Lor 8, #01-1477 · Singapore · 319074
Tel: +65 9668 6468, 254 2728, 254 3326, 9668 6469, 9760 6466.
judy@asiahomes.com

Long term rental condos on long leases

---

BE KIND TO PETS
COMMUNITY EDUCATION
SPONSORED BY WWW.ASIAHOMES.COM

RIGOR MORTIS IN THE PUPPY

"You had waited much too long to request for a Caesarean delivery," I reprimanded the breeder as extricating a dead but healthy puppy was the saddest thing in the world. "The 4th puppy was in rigor mortis, meaning that the body became rigid after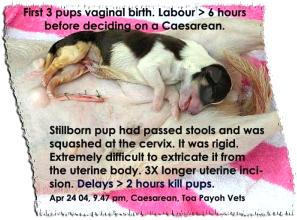 death as the muscles contracted, locking up the joints. The puppy must have died 12 hours ago!"

Rigor mortis starts from 10 minutes to over a few hours after death. The rigor mortis started from the puppy's face which was stiff. Its nose was purplish instead of being bright red, as its blood supply was deprived of oxygen.

"It was only 6 hours," the breeder replied. Six hours? I stared at him. He ought to know better to wait more than 2 hours. I expected a much higher standard of care of his pregnant bitches than from any other breeder in Singapore because he was a very successful and progressive breeder.

He was an excellent pay master too and I must learn to keep my mouth shut. It was easy to say that this death could have been avoided had he phoned for an emergency Caesarean when the bitch had labour pains for 2 hours. A wealth of experience accumulate only from puppy deaths and financial losses.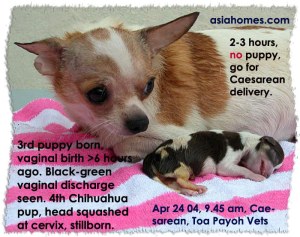 All breeders compare and contrast veterinary performance as they doctor hop. The shorter the operation wound, the "clever the vet is." Rigor mortis in puppies harms the reputation of the veterinary surgeon insidiously. In rigor mortis, the incision in the womb had to be three times longer as the body was hard to extricate. The long incision would reach the cervix, causing scarring.

The mother might not conceive again if the cervix was scarred and fertilisation was not possible.

The vet would be one which caused the infertility due to his "incompetent Caesarean section" in making such a long incision and all breeders would be "informed" to avoid the veterinary surgeon at all costs.

So, was it all right for me to reprimand the breeder? And risk losing his custom to other vets? I think I should keep my mouth shut all the time.


---
The Maltese breeder knew that a Caesarean delivery was the only option when he saw that the Maltese had delivered a large pup and the mother was tired out. He was right as the puppies were really huge.

The Chihuahua breeder had the same big swollen abdomen indicating a large number of puppies. As there was one mummified one dead some time ago, its death toxins affected two others to be stillborn and weakened the other 3 puppies. The 3 puppies were alive at day 2 and the mother had produced milk despite her 58th day of pregnancy.

Copyright © Asiahomes Internet, 2004. All rights reserved. Revised: April 26, 2004
· Blk 1002, Toa Payoh Lor 8, #01-1477 · Singapore · 319074
Tel: +65 9668 6468, 6254 2728, 6254 3326, 9668 6469.
Asia USA Realty - affordable homes for expats
Asiahomes Internet - affordable internet ad