Rental for Pebble Bay (this article).

Tips for first-time Landlords (this article).

Main report on Pebble Bay with links.

Interiors of Pebble Bay

Floor Plans of Pebble Bay

Type D3 "penthouse" 4+1 2800 sq. ft asking $14,000 on Feb 2000: 2 images of water fronting unit Type D3 is a penthouse in Block 2. It has very high dome-shaped ceilings and the living dining area is big. The living area with its big balcony, the ensute master bedroom with its hexagonal shape and one bedroom with its attached bathroom are facing the waterfront with unobstructed direct waterfrontage.
510 units. Completed in 1997. 3 hectares.
Tanjong Rhu Road, north of Raffles Place and south of Changi International Airport. Near Indoor Stadium. Waterfront condo.

Fast access by car (5-minute drive, 4 km) to to Raffles Place and 10-minute drive to Changi Airport via expressways.

Buses and taxis.

One express bus service to Raffles Place and Suntec City.
One bus service to Kallang subway.
There are not many taxis plying the road. The expatriate community is large, so there are taxis coming into this neighbourhood at various times. As the economy has recovered, it is harder to book/get taxis during peak hours.

Full condo facilities.

Tennis courts x 2, squash courts, golf driving range and putting green, fitness circuit, spa/bubble pool, swimming pool, a children's pool, a lagoon pool, a spa and bubble pool, good-sized gymnasium, steam rooms, children's playground and barbeque pits. A mini-mart and laundromat. Basement car parking.

Security.

24-hour security with closed circuit television, audio-video intercom and card access system.

Anti-stress surroundings.

From the swimming pool area, you experience a "waterfront resort ambience. A small cafe is operating around the Kallang River at the one end of a suspension bridge spanning Kallang River to the Indoor Stadium.

Outside the condo, romantic couples walk hand-in-hand along the water edges. Joggers enjoy the waterfront views. A few people try fishing. A short walk across the suspension bridge brings you to concerts at the Indoor Stadium.
Rentals vary, depending on whether the unit has full waterfront views or not and on negotiations. As a guide, the asking rentals at October 25, 2000 are:

1-bedroom 850 sq. ft $2,700 - $4,000.

2-bedroom 1,200 sq. ft $4,500 - $5,000

3-bedroom 1,800 sq. ft $5,500 - $7,000

3+family 2,300 sq. ft $7,000 - $8,000

4-bedroom 2,626 sq. ft $7,500 - $12,000

Penthouse 2,810 sq. ft $14,000

Penthouse 6,469 sq. ft $25,000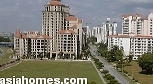 Pebble Bay, an upscale condo with high and low buildings, is on the left, by the Kallang River. Parkshore condo is on the right. Tanjong Ria and The Waterside are in the distant background.

Casuarina Cove will be behind Pebble Bay.
Costa Rhu will be in the foreground (not seen), at the end of the vacant piece of grass land. The Kallang River is on the extreme left of Pebble Bay.

A suspension bridge crosses the river connecting to the Indoor Stadium.

Competitors for expatriate housing.

4 other condos. Tanjong Ria, Parkshore, Casuarina Cove and Costa Rhu Condos are within walking distances.


---
Tips for first-time Landlords

Be investment minded in knowing that there are more condos for rent than there are tenants, even in October 2000. This is because many new developments have had been completed.

To attract tenants, do not:
1. furnish with old or cheap quality sofas and dining tables.
2. buy a very small refrigerator.

3. install a rusty old washing machine or dryer from your own apartment while you use the new ones.

4. install flowerly, brilliant coloured curtains.

5. provide white sofas or black sofas.

6. paint your walls green, blue or multi-coloured. White paint for all rooms will be the best.

7. provide outstanding furniture unless you want to wait longer for a tenant. Examples are "English or French-style sofas and chairs", heavy marble-top tables with reddish and greenish streaks. They are expensive but do not appeal to most Caucasians as they don't seem to match the decor generally.
8. flowery type of hanging ceiling lamps like those from Taiwan. Simple designs are best.
9. install only washing machine without dryer component.
10. no cable points in all rooms.
You can be sure that your competitors will be providing good and new furniture and lighting. Pastel colours are best if you want to rent out your apartment.
Other tips are at http://www.asiahomes.com.

---

Landlords & Realtors: You save a few thousand dollars in agency commissions or co-broking fees, contacting expats direct with one ad in www.asiahomes.com.
The website of 100MB and over 1000 photos and floor layout plans on Singapore housing is referenced by expats looking for Singapore housing. Details at: AsiaHomes Internet.

Email judy@asiahomes.com your ad now.