Completed: December 1998. 50 - 90 Duchess Avenue.

251 units.
2-bedroom: 87-124 sq. m
3-bedroom: 125-159 sq. m
4-bedroom: 145 -210 sq. m
Townhouses 5+1: 380 - 396 sq. m (rentals asked $15,000 in 1998). Most rented around $12,000 in 2000. Only one available for rent as at July 21, 2000, asking $12,000.

Interiors: Living/dining - marble tiles. Bedrooms: parquet. Wide main doors. Kitchen rather small. Maid's room very small.

Facilities:
Swimming pool (main one), small lounge pools x 2, steam bath, tennis court, small gym at basement, multi-purpose hall, 24-hour security, close-circuit TV at lift lobbies, barbecue area, covered car park.

Sprawling landscaped grounds appeal to Caucasian mothers with small children. No other condos in Singapore apparently have so much land.

Competitors: Townhouses have no nearby competitors. Most rented above $12,000. Competitors will be the penthouses in downtown e.g.

Aspen Heights Penthouses x 24 units.
5+1 3,000 sq. ft (4 bedroom upstairs 2 downstairs) $12,000. 5+1 2700 sq. ft one level balcony $12,000. Available December 1998.
Costa Rhu Penthouses
5+1 3700 sq. ft - 5300 sq. ft (3 bedroom upstairs 2 downstairs) big patio/balcony $9,000 - $13,000.
Pebble Bay Penthouses
5+1 6200 - 6700 sq. ft $13,000 - $20,000.

Occupancy rate: Nearly 100%.

Sales:
One townhouse was sold for $2.4 million in May 1999 .
Duchess Crest was first launched in May 1996, immediately after the government announced anti-speculation curbs for the property market. At its launch, prices ranged from $920,000 to $2.2 million for the apartments while the townhouses were priced at $4 million each. The project was taken off the
market in March 1997 and re-launched in April 1999. ( B.T. May 5, 1999).

CHARACTERISTICS:
Balconies small but are favoured by Caucasian expatriates. Not all units have balconies.

Sprawling grounds loved by families with young children who cycle and socialise.

The ground floor units rent higher as they have a patio on level ground and if they are away from the swimming pool, they get rented almost immediately by Caucasian families with small toddlers.

Investment potential:
99 years old. Great demand by Caucasian expats and therefore easy to rent. Popular rental units are not facing the pool, have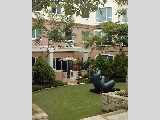 balconies and not facing another apartment or barbecue areas.

Ground floor with patios command premium rentals and are in great demand.

Balconies on upper floors. Patio on ground floor appeal to Caucasian mummies with toddlers and 2 year olds.
Advantages:
Near international schools. Expat enclave resort ambience, sprawling grounds. Large numbers of Caucasian families. .
The neighbourhood is predominantly low rise houses and many Caucasians love such residential neighbourhood away from high rises. 5+1 townhouses may interest expats with large families. Rentals high at $15,000.
Small balconies in some units and none in others. Low rise. 4-storeys only. Near to International Schools - within a 15-minute bus ride.

Disadvantages:
Little privacy as the lower units face each other.
No visitor's lobby if the multi-function room is taken up by functions.

Some Caucasian expats complain that the kitchen is too small. Can't accommodate a large dishwasher.

A long 15-minute walk to the main road or Coronation Shopping Plaza for groceries or buses.

OTHER INFORMATION
Duchess Crest & Casa Esperanza pictures

Oct 99:
Duchess Crest 4-bedroom apartments - photos of interiors.

Oct 99:
Duchess Crest townhouses - photos.

Sep 24 99 house-hunting report & photos.

Sep 22 99 house-hunting report & photos.

Aug 98:
Updated on July 2000 report (see right).

Pictures of one 4th floor unit for rent

Image of one 4th floor of Blk 58 (Nobeles), the top floor in this condo. You'll see some roof tiles and the city views from the living and master bedroom.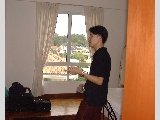 Master bedroom has excellent views and privacy. Some units face each other.

This unit, around 1400 sq. ft, has no balcony off the living area (see images below and above).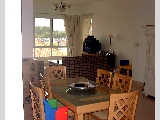 Living and dining area with no balcony.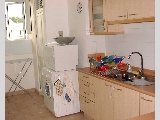 Small dishwasher on top of washer cum dryer.
Maid's room on left. Maid's bathroom (used as cat's room) on right in background.



Excellent view from living area. Note plunge pool at upper left corner. Ground floor units have patio (see umbrella for alfresco breakfast). This top floor Nobeles unit is away from the pool and very tranquil.



Sofa bed for bedroom 3 can be used for guests and is space saving. A 2-year old English boy's playroom with lots of love from mum and dad.