1, 3, 5, 7 Siglap Road, Completed: 1976. 1000 units.

Studio: 68 - 80 sq. m
2-bedroom: 93 sq. m
3-bedroom: 142 - 195 sq. m.
The bigger 3-bedroom units of 195 sq. m are maisonettes with 2 big balconies and bedrooms upstairs.
Penthouse: 353 - 366 sq. m

Finishes: Living and dining have ceramic tiles but some owners have upgraded to marble flooring. Bedrooms have parquet flooring. Built-in wardrobes, kitchen cabinet, balcony in living room and master bedroom. Window unit air conditioning are commonly seen unless the owner has upgraded to split unit air. conditioners.

3-bedroom units have 2 doors-in-one in master bedroom. The first door is the bedroom door and the 2nd door opens to the lift lobby outside. Some Owners block this emergency door with a writing table.

Facilities:

Recreational

- Olympic-length swimming pool
- Jacuzzi
- Wading pool
- Jogging and cycling tracks
- Fully-equipped gymnasium
- Saunas and steam bath
- Tennis, squash and badminton courts
- Table tennis room
- Golf putting green
- Barbecue area
- Function room
- Children's playground

Amenities

- Cafeteria
- Mini-mart
- Laundry
- Hairdressing & Beauty Salon
- Video rental shop
- Kindergarten
- Automated teller machine
- Post office locked box
- 24-hour security
- Covered carpark

A kindergarten inside condo attracts Caucasian mothers. Underpass to East Coast outside condo across expressway to continue jogging in a 5-minute walk.

Occupancy Rate: High. Rentals are lower than brand new condos but the bedrooms are more spacious.


Advantages:

Lower rental per sq. m compared to the new condos.




The semi-circular balconies attract many Caucasian expatriate tenants. Some units have fantastic sea views and yet are not near the noisy expressway. Mandarin Gardens condos are in great demand.

An under pass to the East Coast Park and beach.
A resort-ambience, though condo is a high density one.
Buildings are spaced further apart than most brand new condos, giving a sense of spaciousness.
A bus interchange nearby.
A large Caucasian and Japanese expat enclave with many small children.
Kindergarten inside condo is convenient as some expat mothers do work.
3+1 favoured by expats with one child as there is an extra room for guests.
Full condo facilities.

Parkway Parade supermarket and neighbourhood shops nearby.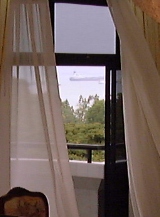 Daily, you will see blue sea, ships and green trees and feel the breezes from the high floor units
Disadvantages:

Older condo but premises are upgraded. High density. The usual complaint of expressway traffic noises for units fronting the CTE expressway.

A common Caucasian complaint is that there are cabinets cluttering the area near the staircase of the 2nd floor passageway outside the master bedrooms, worn out long bath tubs and window unit air conditioners.

Half-renovated looks: Some owners renovate partly leaving dated long bath tubs and window unit conditioners behind.


Oct 8 1998 Case Study: Landlord, attracting Tenants. Closing on an expat family with a 5-year old child.
3 units of 3+1, 1600 sq. ft seen in 3 different facings for Blk 7, Mandarin Gardens on October 5, 1998 by a young Indian couple with 5-year old, budget being S$2,200 fully furnished. They were:
3rd floor. Not much view from living room. Older common furniture but clean. Landlord had placed a big desk flushed against the emergency escape door of master bedroom (the 2-doors in one for 3+1 described above), bolting it.
12th floor. Sea view seen and half view of pool. New light-coloured pine-wood dining table (actually 2 square tables) with 6 chairs, glass-door cupboard, display book-case shelvings, washer, dryer, conventional oven. Folding-door kitchen hatch. Shoe rack. Grey lounge set stained by wear and tear. Light coloured bed frame and small desk in master bedroom. Beds in all rooms. Window-unit air conditioning in bedrooms. Plain purple curtains in living room and deep blue ones in bedrooms. Utility area exposed to burglars who can climb into unit from air well.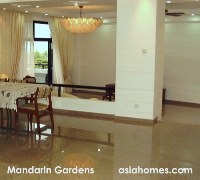 23rd floor. Excellent sea views marred by window grilles for balcony of living room. Black lounge sets, black dining table, black TV stands. No conventional oven. Brighter lobby and kitchen. Split-unit air conditioning in all rooms. The mood was depressive since unit has so many black items although lift lobby and kitchen are brighter despite being evening time.
Closing: 12th floor. Husband was the decision maker. This case typifies what attract Tenants.
*higher floors.
*good views.
*clean white ceramic tiles in living room.
*newly painted white interior.
*new furniture available.
*light-coloured furniture.
*fully equipped kitchen.
*clean kitchen appliances.
AN EXAMPLE OF A TOP FLOOR APARTMENT
Mandarin Gardens
3-bedroom maisonette 2000 sq. ft on 20th floor in Blk 5 with fantastic sea views. Quiet as this condo is much further away from the expressway (in front of white low rise Mandarin Gardens buildings)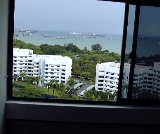 Competitor:
Villa Marina maisonette 4-bedroom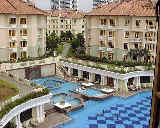 The pool has water falls. 6 white jacuzzi beds (see image, CLICK thumbnail to see bigger picture) inside water to pamper you.

Competitors: Newer condos like Pebble Bay, Costa Rhu, The Makena and the nearby low rise new Villa Marina (built in 2000, picture below)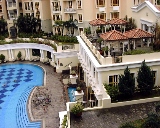 Villa Marina's exciting pool and cool clubhouse
has captured a significant number of younger tenants.

Email judy@asiahomes.com or tel: +65 9668 6468 now!