Focus:
We get for you affordable Singapore homes
Rent or Investment

Some real estate information for foreign tenants & buyers

The Ritz-Carlton Residences
Singapore Cairnhill


65 Cairnhill Road. Upscale condo serviced apartments. Completed: 2012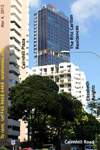 F
reehold. One block 36 stories. Elevated ground.


Excellent downtown location. Prestigious address.

A 10-minute walk to the Orchard Road shopping malls and Orchard subway. In the centre of action and a
prestigious high-class residential area. The excellent Ritz-Carlton Hotel management services are provided.

56 apartments, 2 penthouses, 3 sky terraces. 3 and 4-bedroom apartments. All bedrooms have attached bathrooms.


Facilities:
Pool - lap pool 40 m, wading pool, hydro pool.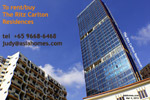 Gym, tennis court, car parking.
Others: BBQ area. Library, Maze Gardens, Children's Playground, Basement Locker Room, Breakfast and tea-times, Wine cellar, House-keeping, Car valet, Doorman.
24-hour concierge services provided by The Ritz Carlton management. Maid's services are outsourced.
Rentals in 2015
3-bedroom, 4 bathrooms, 2831 sq ft, $$14,000 - 15,000 p/f
4-bedroom, 6 bathrooms, 3057 sq ft, $21,000 - $22,000 p/f
4-bedroom, 6 bathrooms, 3574 sq ft, $28,000 p/f
Rental: One-year leases. Maid services at 3x/week and fully furnished units can be arranged. The minimum lease is ONE-YEAR. Monthly or weekly leases are not usually available.

p/f: partially furnished
f/f: fully furnished

Sales: Units are available for sale from $12 million.
We provide a convenient and free services to expatriates and their office people and foreigners looking for Singapore rentals/investments or short-leases. Such people don't have time to do the negotiations and phone calls and use our services.

Phone/text 9668-6468, judy@asiahomes.com.

E-mail or fax house-hunting form to us at 6256-0501 and we will contact you within 24-48 hours.

Text or Tel: +65 9668-6468 to get immediate answers to your queries or make appointments to view apartments when you arrive in Singapore. This webpage provides some information for expatriates planning to relocate to Singapore.

We are NOT able to update daily as many properties are rented out/sold out fast. Tel: + 9668 6468, 65 6254-3326. Fax: +65 6256-0501 to get more info. E-mail: judy@asiahomes.com to get a list of housing/serviced apartments or to view housing in Singapore. For rental or sales:
Email details of your specifications to judy@asiahomes.com,
Tel/SMS: +65 9668-6468, 6254-3326.
Fax: +65 6256-0501 for viewing or updates.
asiahomes.com is the webpage.
©Asia USA Realty (Singapore) asiahomes.com
Pte Ltd. Website: asiahomes.com.
Blk 1002, Toa Payoh Lor 8, #01-1477, Singapore 319074
Republic of Singapore
Estate Agents Licence No. L3007306B
Salesperson Name/Registration No. David Sing Kong Yuen/R030822Z

Asia USA Realty (Singapore) asiahomes.com Pte Ltd
Finding Affordable Homes For Expatriates

Copyright ©

Asiahomes
All rights reserved.