Asia USA Realty (Singapore) asiahomes.com Pte Ltd
Estate Agents Licence No. L3007306B 27 Mar 2011
Focus: 
We get for you affordable Singapore homes
Rent or Investment
HOLT RESIDENCES
Downtown Singapore


7 Holt Road. 45 condos. Freehold. Completed 2000.
3 & 4-bedroom and penthouse from 1851 sq. ft to 2400 sq. ft

Facilities
• Children's pool
• Lap Pool & spa Pool
• BBQ pits
• Gymnasium
• Basement parking spaces
• 24 hour security
• Children's playground
• Audio Video Intercom & Security System

Advantages:
Low density. Big balcony.
Near to Orchard Road by bus or taxi. Valley Point shopping centre and Starbucks a 5-minute walk away. The Great World City shopping mall and cinemas is a 15-min walk away. However, across the road is the Valley Point shopping mall and Starbucks. Piped gas in kitchen, not bottled gas.

Disadvantages:
Not near subway. Not much grounds for children to play.


FOR RENT

Feb 25, 2011 For Rent
Advert by Realtor: 7 Holt Road for rent $10,500.
Other units are available.
E-mail judy@asiahomes.com Tel: +65 9668 6468.
PHOTO-ADS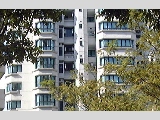 D'Grove Villas
Door step of Orchard Road. 3-bedroom $6000. 4-bedroom for rent
FOR HISTORICAL RECORDS ONLY
ASIAHOMES' 2001 HOUSE-HUNTING REPORT
HOUSE HUNTING
FOR $10,000 DOWNTOWN CONDOS

EXPATRIATE 1
Saturday Jan 27 2001.
8.30am
Meet at the Grand Hyatt
Young American couple

9am
Chelsea Gardens
brand new.
4+1 2000 sq. ft $10,000

9.30am
7 Draycott Drive
brand new.
3+1 2121 sq. ft $9,000

10am
5 Holt Road
Big balcony. Bright. Greenery views from one side.

Completed in 2001.
5 Holt Road
4+1 2056 sq. ft
$9,000

10.30am
7 Holt Road. Completed in 2001.
4+1 2820 sq. ft $8,000

11am
St Martin Residence completed in 2001.
3+1 1700 sq. ft $9,000 - $9,500
Low or high floors. 2-bedroom and 1-bedroom for rent from $7,500. Near Tanglin Mall and Orchard Road.

11.45am
North of Suntec City, by the Kallang River.
Camelot
brand new.
2, 3, 4+1 2400 sq. ft to 5,800 sq. ft from $9,000
Big balconies from living and dining rooms.

River views from master bedroom
EXPATRIATE 2.
Saturday Jan 27 2001.
12.45pm
Meet at The Fullerton
Young British couple.

2pm
St Martin Residence
3+1 1700 sq. ft $9,000 - $9,500
Low or high floors

2.30am
7 Draycott Drive
3+1 2121 sq. ft $9,000

3pm
7 Holt Road
4+1 2820 sq. ft $8,000
Big balcony. Bright. Greenery views from one side.

3.30pm
Holt Residence
5 Holt Road
4+1 2056 sq. ft
$9,000. The 4th room is a study room with a sliding door, adjoining the living area.


---

EXPATRIATE 1, 2 & 3.

4pm
Meet together with
Expatriate 3.

Four Seasons
2 units.
4+1 2260sq. ft $11,000

EXPATRIATE 3
American family.

Nassim Jade penthouse 4+1 2800 sq. ft $12,500

7 Nassim
5+1 4200 sq. ft.

Four Seasons 4+1 2874 sq. ft $15,000.

EXPATRIATE 1.

72 Grange Road 2+1 4200 sq. ft. Regency Park and others.

Subdivisions (condo & house details) has some of the details of the advertised condos.
Tel: +65 9668-6468, e-mail judy@asiahomes.com for viewings
©Asia USA Realty (Singapore) asiahomes.com 
Pte Ltd.  Website:  asiahomes.com. 
Blk 1002, Toa Payoh Lor 8, #01-1477, Singapore 319074, Republic of Singapore
Estate Agents Licence No. L3007306B
Salesperson Name/Registration No. Sing Kong Yuen/R030822Z

Asia USA Realty (Singapore) asiahomes.com Pte Ltd


Finding Affordable Homes For Expatriates