Asiahomes Internet
Focus: We provide affordable internet ads for owners and realtors.
Community Education Department: Be Kind To Pets

Update: 24 Aug 2003
ASIAHOMES TIPS FOR A LONGER LIFE FOR YOUR PETS
Be Kind To Pets. A Community Education project using narrative stories with pictures, is sponsored by AsiaHomes Internet - we connect owners & agents to expatriates or foreign investors globally without costing you a bomb.
The Yorkshire had 36.8 degrees Celsius !


"The rectal thermometer reads 36.8 degrees Celsius," the breeder said. "Is my Yorkshire bitch ready for Caesarian section?"

"How long has she been pregnant?" I asked.

"60th day. She has loose stools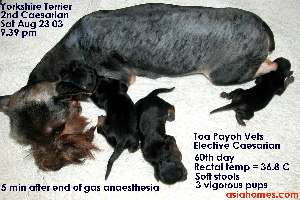 for the last two days and her sublumbar muscles are relaxed."

When the bitch is about to deliver, the muscles below the backbone near the hip relax so as to facilitate the birth of the puppy.

I was attending a birthday party on this Saturday night. The party was in progress at 9 p.m. If I advised waiting, it would be a midnight Caesarian and the puppies might not be alive sometimes.

The Yorkshire fell asleep within 5 minutes of the gas anaesthesia given in the mask. All 3 puppies were breech presentation. It was too slippery for my gloved hands to handle the puppies. I ruptured the water bag and pulled the puppies out by the backside. Two started to cry and this was a good sign. The third one was quiet and the breeder took some time to revive it.

This was the fastest Caesarian as the bitch was as small as a phone directory book. The puppies were given directly to the breeder and his wife.

All 3 puppies were nursing well on Sunday morning when I visited them at the Pasir Ris kennels. Elective Caesarian certainly has been helpful in ensuring that the puppies were born alive at the right time and could thrive.
INTERNET ADS

FASHION BERETS - that make you outstanding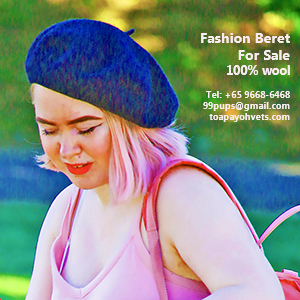 YOU WANT to be first to make a good impression? Wear a TOP QUALITY berets at your next meeting.
S$45.00 for one beret inclusive of shipping in Singapore. Email your order to judy@asiahomes.com or Tel: +65 9668-6468, 6254-3326, 6254-2728, 9668-6469; Fax: +65 6256-0501, 64545-843 for viewing or updates.
We will contact you within 24- 48 hours. www.asiahomes.com/berets



METHODS OF PAYMENT.
We prefer payment by credit card to PAYPAL. For payment, click on one of the two below:

1.

2. Click:
david@asiahomes.com

OTHER TYPES OF PAYMENT
Email judy@asiahomes.com for more information on bank account number and bank.


Asiahomes Internet, Affordable Internet Ads for Singapore Owners & Realtors, $13.50/40 words/90days targeted at expatriates relocating to Singapore. Visit asiahomes.com to select your rental housing units or to view over 3000 photographs and layout plans.

Copyright © Asiahomes Internet, 2003. All rights reserved. Revised: August 24, 2003 · Asiahomes Internet
· Blk 1002, Toa Payoh Lor 8, #01-1477 · Singapore · 319074
Tel: +65 9668 6468, 6 254 2728, 6 254 3326, 9668 6469.
Asia USA Realty - affordable homes for expats
Asiahomes Internet - affordable internet ad