Teaching associates of Asiahomes using photos.


Non-exclusive marketing rights.

"I will inform the Management !" shouted a realtor when the prospective Tenant told her that she would be asking me to submit the Letter of Intent of The Cairnhill apartment and that I had agreed to give her a referral fee on success.

She had wanted the prospect to give her a good faith deposit, but it was not agreeable. I had shown her The Cairnhill earlier and she had called this lady agent who had advertised.

If you want to advertise without exclusive marketing rights, you will have to be less emotional. After all, the prospect said she could go direct to the Landlord who was also advertising the property for rent and would not need an agent. What is there to threaten?

Emotions engulf the $700-realtor

"For a $2800 one-year lease, my co-broking commission will be $700. I am losing money on this case with several house-hunting visits". The prospective Tenant from one of the big 6 auditing firm wanted the painting to be done but the Landlord refused to do it for this amount of rent. There is a possibility that you could close the case if you contribute $200 or $300 to this and close the case promptly. If you procrastinate, the Landlord may have better offers and you are left with zero income. This may be a money-losing case but you will have some crumbs. You refuse to contribute a cent.

No doubt you will need the money. What is more important is the referral business from the expat network. Once I refer a case to you, you have the opportunity to get more referrals.

In this case, I offer to pay the $300 as the expat actually wanted me to handle his case but I was tied up. Yet, the associate expressed unhappiness at not being consulted first. Time is of the essence. Closing is what you want.


Referrals. f you can't control your emotions, you can't get referrals. Expat rentals is a highly personalised business. You have to solve the problem and close fast as Landlords do change their minds too.

If you give the impression that you are competent and that includes "no emotional stress for the expatriate tenant", you will get referrals from overseas, such that you will have no time to handle the cases.

Big accounts will seldom come your way if you can't control your emotions and close cases. If you can't close small accounts and don't get much referrals after one year in business full time, you'll have to get out of this highly personalised business.

Closing rate is 3 out of 10 for expatriate rental, according to one older realtor with 8 years of experience in expat rentals and sales I spoke to recently. He switched to selling HDB apartments. For the last 3 months, there were no sales and now he is in financial difficulty.

Whatever you do, focus and be good at it. Learn how to close fast.

I do have many unsuccessful cases too. 2 afternoons of viewing houses, I did get a kiss on the cheek from a Dutch boy you see in the image on the left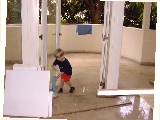 who also kissed the co-broking agent at the end of the 2nd viewing of a Pasir Panjang bungalow. The latter agent advertised 3 months without success because the bungalow was simply "unrentable" even at $7,000. See:
The unrentable Pasir Panjang Bungalow

Zero income as there wasn't one 4+1 newer semi-detached house with a nice environment, bigger spacious living and dining room for $6,500 rent.

Give me that $700 case above anytime. Half a loaf is better than no bread. There is a hope of referrals as we parted amicably.

P.S. Bert is an outgoing intelligent 3-year old. He enjoyed house-hunting with his dad at the Waterfall Gardens condo which had big living and dining spaces and 4 bedrooms. Unfortunately, the unit faces the Farrer Road and the roar of traffic made this unit difficult to rent. Waterfall Gardens is almost fully occupied as at March 25, 2000.

Expats interested in Waterfall Gardens condo, near Orchard Road and Holland Village, email judy@asiahomes.com or tel: +65 9668 6468.