YOU WANT to rent or buy Singapore homes? Email details of your specifications to judy@asiahomes.com or Tel: +65 9668 6468, 6254 3326, 6254 2728, 9668 6469; Fax: +65 6256 0501, 64545 843 for viewing or updates.

Email or fax house-hunting form to us at 6256-0501 and we will contact you within 24- 48 hours.

---
PERSONALISED ATTENTION

1. Human Resource Department:
Preview of Singapore and then inspection of specific properties after preview. This is usually 2 months before relocation. House-hunting will be conducted by Asia USA Realtors. US$100/hour, minimum 2 hours.

2. Expats: Please check whether your company have restrictions on you using an outside realtor. See
The early bird catches the worm?

3. Start ups. Some start up companies want this type of personalized service as the expat's time is too valuable to be spent seeing unqualified apartments.

4. Planning and email correspondence before arrival are essential to the success and satisfaction of the busy executive.

4. Meeting the spouse at the airport can be arranged.

5. Fax/email your HOUSE HUNTING FORM
to judy@asiahomes.com
to save you time.

6. See House hunting listings & email judy@asiahomes.com to get a feel of rental prices and let us know if you like certain properties.
---
REPORT ON SINGAPORE RENTALS
Please post cheque US$30.00, payable to Asiahomes Internet, if you wish to have an official residential leasing report to negotiate your housing allowance with your prospective employer.

Email Judy.
Tel: +65 9668 6468.
Photo Ads by asiahomes.com

260. Dec 6 03. The Palisades, 3-bedroom 240 sq m, near INSEAD, NUS $6,500

259. Nov 1 03. Conservation shophome, modern, 4+1 for rent $8,000
258. Sep 7 03. NEW Costa del Sol penthouses & sea fronting condos for rent and sale.
256. Sep 6 03. Gallop Court - high class & private. 3 units available.
256. July 3 03. Six Rochalie
3-bedroom 2240 sq ft $7,000, near Tanglin Mall for rent. 6 units.
255. Jun 2 03. St Martin Residence studio at $3,000. 2-bedroom $6,000
254. Jun 1 03. Upscale downtown penthouse $12,000. Others $7,000 - $8,000
253. May 11 03. Unblocked river fronting Pebble Bay 4+2 2800 sq ft $8,000
EXPATS' FAVOURITES

Photos of expat favoured condos & houses:

Sommerville Park maisonettes , Beverly Hill, 72 Grange Road, Valley Park, Habitat I & II, Ardmore View, Parc Vista, Chestnut Drive detached + pool, Sunset Heights detached.

Downtown Condos x 6 are:
Beverly Hill's spacious family, living and dining areas & balcony.
72 Grange's 4,200 sq. ft apartment has spacious living areas.
Shangri-la Residences buildings - low rise.
Ardmore View building and penthouse (pool, big terrace, duplex, 3+1, 9000sf, $20,000).
Valley Park buildings with balconies.
Regency Park's spacious big balcony.

Some cases affecting the expats in the quest for the ideal condo are extracted from the report on House hunting listings:

12. Oct 8 00: The early bird catches the worm?

11. Aug 5 00: An exploding dish washer?

10. Aug 4 00: Did the consultant win his bid for his waterfront beauty?

9. Aug 4 00: The expat wife who wants a quality condo with a balcony.

8. Two-bedroom for rent in Dec 1999.

7. Oct - Dec 1999 terrace houses for rent.
Not many terrace and semi-detached houses are available for rent as most are owner-occupied and demand is very low..

6. Aug - Dec 1999 detached houses for rent.

5. Not possible to rent a detached below $7,000. Aug - Nov 1999

4. One or 2-bedroom condo in the East Coast in March 1999.

3. Modern Mera Gardens bungalows

2. Expat favoured residential areas.
1. Rules & regulations on rental of public housing (HDB apartments).
EXPATS/SURFERS TO NOTE

1. We charge the Tenant half a month's rent, on successful closing, to show and get the best of all the black and white bungalows in Singapore unless the Landlord pays us the commission.

2. Please CONFIRM with your company and the human resource manager as to whether you are permitted to use asiahomes.com realtors (outside realtors). You may have to let your company know that you wish to use outside realtors if you feel you receive unsatisfactory service from company realtors, but many human resource managers have firm policies stopping you from doing so if the company is the Tenant and not yourself.

3. For rentals below S$2,500 per month, we charge Tenants half a month's rent, on successful closing.

4. Please note that we do NOT provide telephone numbers of Serviced apartments or any of the above condos and developments to expats/overseas callers phoning us wanting to know name of developer or tenant.

Please do NOT phone 9668 6468 to get the numbers as our answering service operator doesn't have them personally. He just takes down your name and telephone number and gets the realtors to contact you later.

The agents provide a free service (if rental is over 2 weeks) to expats/secretaries needing serviced apartments without the hassle of booking themselves. They contact the operators of Serviced apartments, get the best rate and book for expats or bring expats to view the units of any serviced apartments.

5. HDB flats. We do NOT provide a service to rent HDB rooms but we do rent out approved HDB flats. As Oct 1, 2003, many more HDB owners can rent out their whole units without resorting to "lock one room" hassles and eviction threats for such illegal practices by the HDB. Dec 26 03. BISHAN HDB 5I for rent. $1,500. Tel. 9668-6468, judy@asiahomes.com

6. Asiahomes.com website NOT updated.
It is just not possible to update every page as expat real estate queries vary considerably from $300 rental to $30,000 and purchase prices from $500,000 to $5 million. It is too costly to do so. Please send email to judy@asiahomes.com your specific questions, appointments to view Singapore apartments and houses. We will assign a realtor to handle your queries and replies are usually 24 - 48 hours. If you don't hear from us, please re-send your email.

7. Re-send your email if there is no reply. Asiahomes.com gets 3,000 junk mails daily and these have taken up the allotted space from the service provider. Your email may bounce back to you in such cases.
Photo Ads .
MANY RENTAL PHOTO ADS
CLICK FOR RENT TO EXPATS
+65 9668 6468 judy@asiahomes.com

©Asia USA Realty (Singapore) asiahomes.com
Pte Ltd. Website: asiahomes.com.
House Agent's Licence No. AD041-07306B
Blk 1002, Toa Payoh Lor 8, #01-1477,
Singapore 319074, Republic of Singapore

Mobile Tel: +65 9668 6468, 9668 6469 (James)
Tel: +65 6254 3326, 6254 2728
Fax: +65 6256 0501
Email: judy@asiahomes.com to get a list or to view. BE KIND TO PETS
is a community education project using photos to promote the welfare of animals. It is sponsored by AsiaHomes Internet.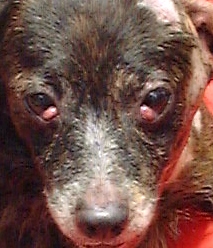 Above image shows "cherry-eyes", a term used in a Veterinary Ophthalmology book. to describe the enlargement of the Harderian glands which lie inside the 3rd eyelid.

12-year old cross bred female in Singapore with 2 cherry eyes. Tears obstructed from draining into the inside of nose and therefore overflows to stain the lower part of the lower eyelid. The epiphora (tear staining) is not obvious if the dog is not white coated. Consult your vet as to surgical removal as the dog feels irritated and rubs his eyes to remove that "cherry".